Benefits of Escalator Power :
Balanced vegetative growth of the crops.

Increase in the size of leaves.

Increase chlorophyll concentration & boost the photosynthetic activity.

Increases fertility of crops.

Helps in the robust growth of the roots.

Provides organic nitrogen, quick & easy absorption by crop.

Induces more number of female flowers on the crop.

Supplies specific minerals required during reproductive phase of the crop.

Robust growth of the crop.

Keeps the Carbon & Nitrogen (C:N Ratio) of the crop in balance.

Helps in decrease flower dropping.

Increase the defense mechanism to tolerate biotic & abiotic stress.

Helps in providing the balance nutrients to the leaves & fruits.

Balanced growth of the crop & fruits.

Helps in better setting of fruits.

Early natural maturity of fruits.

Manage to some extent water stress, preventing flower & fruit drop.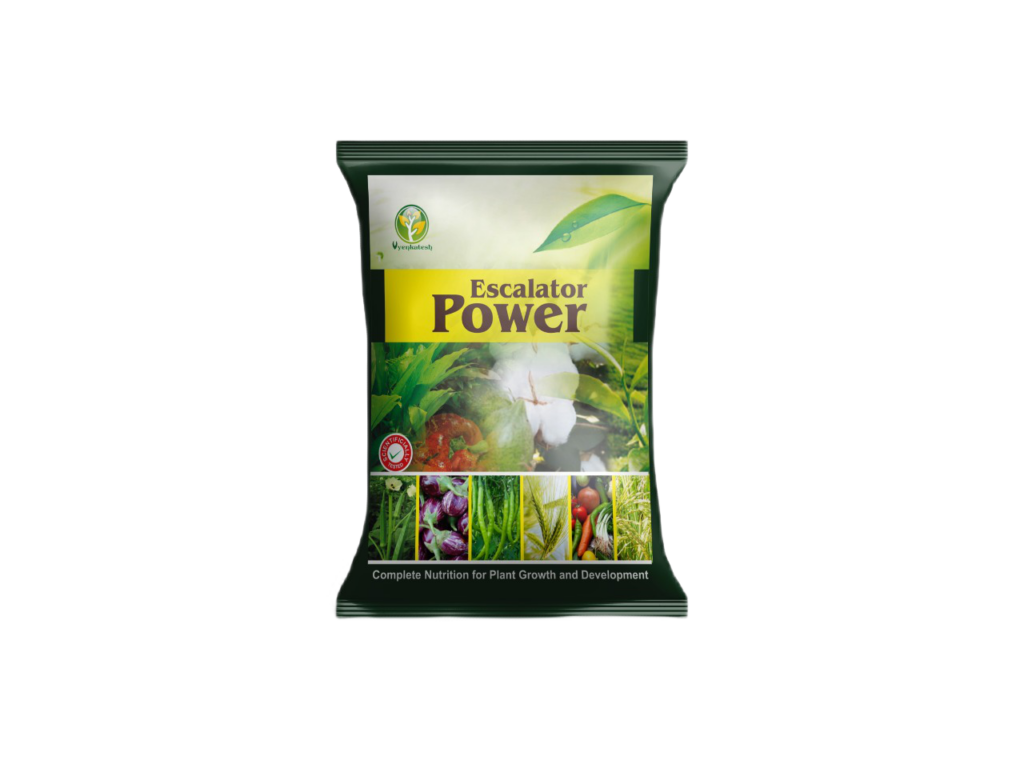 Features of Escalator Power
Escalator Power is an organic product.

Produced scientifically natural product for organic & exportable production.

Escalator Power is completely safe for humans, animals, birds & the environment.

Savings in 20 to 40% chemical sprayings.

Increase 20 to 50% yield.
1

st

spray : peak vegetative growth phase @ 1 – 2 gm per liter of water.  

2

nd

spray : flowering stage @ 1 – 2 gm per liter of water.

3

rd

spray : fruit development stage @ 2 gm per liter of water.
For excellent results spray it in morning before 11:00 AM or after evening 5:00 PM.

The soil should be moist at the time of spraying Escalator Power or after spraying irrigate land.

Escalator Power is compatible with most commonly used pesticides, fungicides, plant growth regulators etc. Except with those having alkaline reaction or produces alkalinity. Still we recommend to go for jar test before mixing other products.